Materials Include: Colorbond & Zincalume Roofing, Wall Sheeting, Gutters & Flashings
Roofing & Wall sheeting made from ZINCALUME® steel is available in a range of profiles. It is lightweight, versatile and attractive and has excellent corrosion resistance. The zinc/aluminium alloy coating on ZINCALUME® steel imparts corrosion resistance of up to four times the life of galvanised steel.
Roofing & Wall sheeting manufactured from COLORBOND® steel is available in a range of attractive colours and shapes. It is durable and strong as well being thermally efficient. The zinc/aluminium alloy coating on ZINCALUME® steel, plus the oven-baked, prepainted finish on COLORBOND® steel provide superior corrosion resistance for long life.
Australia Wide Delivery available on most products. Please check table below for product availability for your state.
We Offer Generous Discounts - Call 1300 662 554 or
Click here to Email your requirements for an Obligation Free Quote

Buy where the Trade Buy
Tradesman – Builders – Renovators - Owner Builders - Handyman
Colorbond Steel Colour Range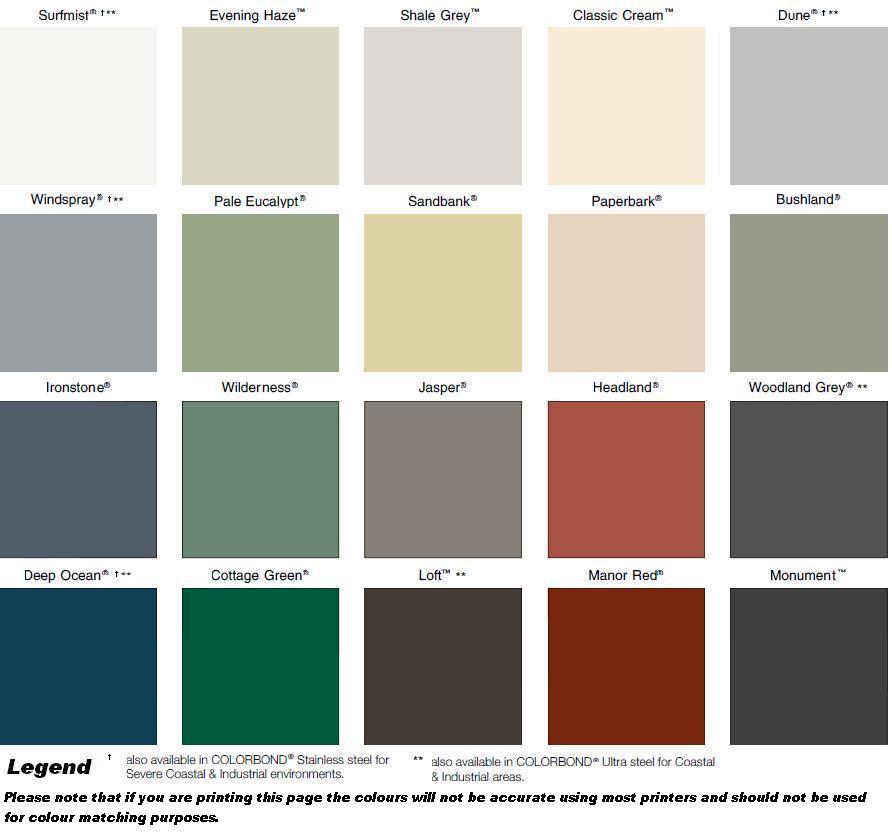 Click here to view Colorbond® Colour Chart

The Colorbond® prepainted steel colours shown have been reproduced to represent actual product colours as accurately as possible. However we recommend checking your chosen colour against an actual sample of the product before purchasing as varying light conditions and limitations of electronic presentation affect colour tones.Colorbond Roofing & Walling, Gutters and Flashings come with the colour on the upper side only. The underside colour varies depending on which product you are buying. On standard COLORBOND® steel it's called Shadow Grey; on COLORBOND® Ultra steel it's Bass Grey; on COLORBOND® Stainless steel it's Hastings Blue; and on COLORBOND® Metallic steel it's Snowgum Green. Some manufacturers do sell roof & wall sheeting made from COLORBOND® steel with a top coat on both sides. However, colours and styles may be limited and you should confirm availability with our office prior to ordering. Some profiles are available with the top coat Colour to the underside. If you want the top coat Colour to be on the Underside you will need to tell us at time of ordering that you would like the product "Reverse Rolled".

Available Profiles
Click Links to View Product Specifications & Product Brochures
Product Availability - Y - Yes N - No S - Subject to project size
Standard Flashing Profiles




C = Corrugated, S = Speed Deck, M = Monoclad/Megaclad
Gutter & Fascia Profiles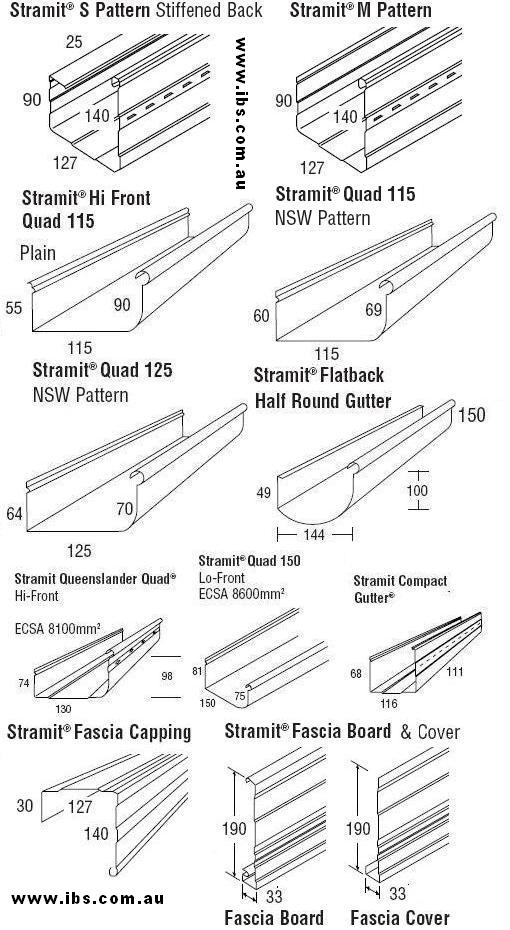 Different Gutter profiles are available in different areas. Follow links below to see which are available in your area.
Stramit® Rainwater Products Northern Region Rainwater Product Range for Queensland and the Northern Territory
Stramit® Rainwater Products Central Region New South Wales Rainwater Range
Stramit® Rainwater Products Southern Region Rainwater Product Range for Victoria, South Australia and Tasmania
Stramit® Rainwater Western Australia Western Australia Rainwater Range